We wrote about Jeffrey Veregge's superhero art almost five years ago. We knew then that Veregge was someone to watch and it's been great to see how he has remained faithful to his favorite subject matter – superheroes – while his style has matured and become both more refined and more complex. He still uses the traditional formline style common to his Port Gamble S'Klallam Tribe in Washington State to portray famous superhero characters such as Iron Man, Thor, Black Panther among many others. What's impressive is that the style doesn't feel forced in this superhero context nor does it stand in the way of the portrayal of the characters. On the contrary, the formline style feels like a natural part of the characters' visual identity. In some cases, it is utilised to build up the figures in a completely organic manner. Familiar formline motifs can for instance be used to form the hefty pec muscles of Hulk or an ornamental design on Black Panther's helmet.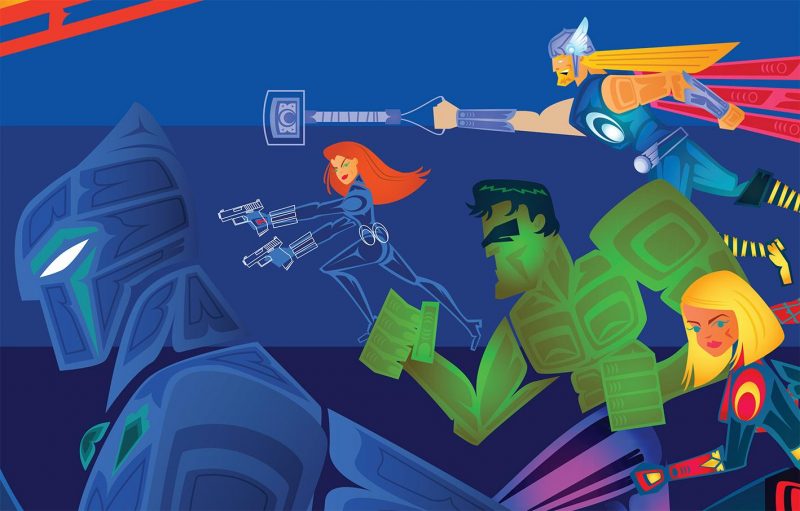 Recently, Veregge was chosen to paint a mural in Smithsonian's National Museum of the American Indian in New York City. The exhibition "Veregge: Of Gods and Heroes" is on view until October 13, 2019. According to Smithsonian's own magazine it "tells a … story about cross-pollinating influences between Indigenous traditions and modern pop culture".
To see superheroes in a museum must be regarded as a big triumph of pop culture, but for Veregge the ultimate acclaim came when Robert Downey Jr. – the actor who plays the lead character in Marvel's Iron Man movies and The Avengers franchise – had seen Veregge's art in a gallery and been so impressed that he shared it on his social media channels.