Wendy Red Star is one of the most exciting contemporary artists at the moment. There was recently a feature article in Vogue about Red Star which is a clear sign that she is hot stuff in the art world right now. Moreover, she has a solo exhibition at Newark Museum. It is an extensive exhibition that covers her production from 2006 to 2019 and includes more than 40 of her works.
Red Star has tried her hand at many different mediums. Some, such as weaving, she uses because of it's traditional link to the crafts of her reservation – the Apsáalooke (Crow) in Montana. But it is perhaps her photographic work that has drawn the most attention. Red Star often uses herself as subject and model in her photographs.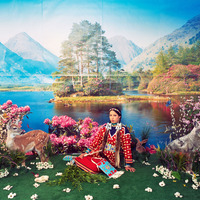 A recurring theme for Red Star's art is the politics of identity and memory.
Many of Red Star's works utilize strategies and methods found in conceptual art. "My Home is Where my Tipi Sits", for instance, echoes Bernt and Hilla Becher's photographic typologies. But a still more significant influence is arguably the "theatrical" trend in 1980s art. The staged quality of Red Star's work can be traced back to artists such as Cindy Sherman, Laurie Simmons, Robert Longo, Richard Prince.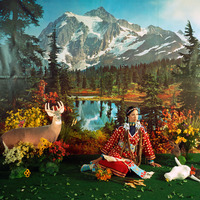 These artists used strategies of theatricality and artifice to explore the manufactured nature of various identities. As does Red Star. But when she employs similar strategies she needs them to convince more than the artists above. That's because the figure of the Native American is arguably surrounded by some of the most rigid stereotypes there are. In the series "Four Seasons" (2006) Red Star examines and seeks to undermine the image of "the natural Indian" – a Native American with a privileged bond to nature and to earth. As evidenced by Disney's Pocahontas, the illustration for the butter Land o'Lakes and countless posters, album covers and posed photographs, there is such a shortage of Native American artists and cultural commentators with a strong voice on the international stage, that these stereotypes are often allowed to continue to shackle Native identity. Many whites hold their stereotypical notions dear and are profoundly invested in the view of the Native American as holder of the secrets to nature.
As Daniel Larkin explains:
This romantic, and generic, image of the American Indian as spiritually connected to a bucolic earth has inspired many non-Indians to make trips to reservations, visit museum exhibitions, partake in rituals, and read texts associated with the many different indigenous peoples of North America. However, this romantic image can lead outsiders to cherry pick ideas from the diversity of American-Indian spirituality so that they fit into their preconceived, romanticized New Age schemas.
What is particularly brilliant about Red Star's photographs is that they look better than they actually are. What I mean is that, at first the images appear to unproblematically play into the hands of those with romanticized notions of Native Americans. What the viewer initially encounters is an adorned Native woman in a beautiful landscape, accompanied by animals. The image is so familiar and normalized that it is understandable if the viewer does not immediately spot the "tells" that this image is fake, such as the suspicious creases in the landscape – which is actually a poster – behind Red Star. Or the blatant two-dimensionslity of the cardboard animals. Through this perceptual twist, Red Star's images not only uncovers the artifice of visual clichés but also lay bare the viewer's willingness to be seduced by them.
Red Star's staged photographs remind me a bit of that scene in Night at the Museum where Ben Stiller tries to have a conversation with Sacagawea through thick glass that mutes all sound. Red Star's tableau's are similarly characterized by disrupted communication. That Red Star now has a major exhibition in a big museum is fitting considering that museums and cultural institutions have often been major agents in perpetuating skewed ideas about Native Americans.
Wendy Red Star´s mid career survey is on view at the Newark Museum until June 16, 2019