News & Blog
We the People
Published Sep 17 2017
A lot of the issues, artists and news that have been covered on the blog this past spring and summer have now been collected in an exhibition at the Minnesota Museum of American Art. Called "We The People", the exhibition investigates just what constitutes the American nation, and who are being excluded, at this point in history. It's not just about the Native American experience but it is a big part of it. Among the Native American subjects that are tackled are Standing Rock, cultural appropriation and social consciousness in general.
Any believable approach to contemporary identity has to include the digital realm. Some of the work included in the exhibition seem to directly concern art's relation to social media. For those thirsting for information, there is a lot to be found on the internet. But the tempo on social media is dizzying fast and one thing, or hashtag, is quickly replaced by another. Can art interface with this rapidity or is it doomed to always be one step behind? The exhibition offers two answers from two different art works. Marlena Myles' "Dakota 38 + 2 Prayer Horse" is technically and aesthetically a very pleasing piece of work. But thematically it seems to arrive too late. Myles has taken the controversy of Sam Durant's planned sculpture "Scaffold" at Minneapolis Sculpture Park as her subject. But as the conflict has already been elegantly resolved the painting has turned sadly obsolete and irrelevant.
Cannupa Hanska has another approach. He was a notable presence at the protests at Standing Rock and his "The Weapon Is Sharing (This Machine Kills Fascists)" (2017) follows up on those protests. Like Myles' painting this is thus a highly topical work but it manages to transcend the specific to make a comment on the nature of digital documentation in general. Hanska has recreated cellphones out of clay and printed photographs from the protests at Standing Rock onto them. He thereby gives them permanence beyond the momentary and ephemeral. At the same time, the mimicking of historical artefacts will infiltrate the archives with a narrative of resistance and protest. Cannupa Hanska's eloquent explanation is worth quoting:
These objects mirror the decayed aesthetic of the artifact to inspire institutions who collect our sacred objects to embed this narrative into their basements and cabinets, letting these pieces join our relatives, so that our ancestors may know what we as Indigenous peoples are currently experiencing. Much as we update our statuses on social media for the current world know our stories, these objects utilize a visual language from our contemporary communication, translating into a literal form of talking to our ancestors. Confined in museums and private collections, the ancestors of all nations are close to each other, communicating and creating alliance in dark caverns, as a pooling of medicines which is reflected in our contemporary gatherings such as at Standing Rock. This work aims to let them know how we are hearing them, and we are connecting.
The exhibition is curated by four people with different backgrounds, and besides a strong Native presence the curators weigh heavily on LGBTQ themes, and issues of African American identities.
It seems like an important exhibition and I wish I could visit but it's a little off the beaten path for me.
The exhibition runs August 17 – October 29, 2017.
Santa Fe Indian Market
Published Aug 19 2017
Today marks the beginning of Santa Fe's Indian market. Known as the world's largest exhibition event for Native American arts, the market hosts art from over 900 artists. During two days, it attracts over 100,000 visitors from all over the world.
The market is an amazing opportunity for artists to reach customers they would otherwise miss out on, and many artists count on profits from sales at the market to support them throughout the year.
However, at a market this size it is perhaps inevitable that some artistic nuances get lost, and perhaps some artists play into the hands of what they think the public might want a little too much.
Such is the opinion of Erin Joyce, who in 2015 wrote that :
The downside is that, although the event is well-intentioned and supports a myriad of artists and artisans, it's not the best platform for new voices in Native American art. The market fosters stereotypes of "Nativeness" that don't also take into account the American Indian artist as a contemporary individual who engages with mediums and concepts from both inside and outside their culture.
Perhaps such critique is the reason for a controversial decision taken by the management for this year's market.
Since the early 1990s, the market has operated under a tenure policy that allowed some longtime established artists an automatic space at the market, without being approved by the selection committee.
Dallin Maybee, SWAIA's (Southwestern Association of Indian Arts) chief operating officer, defends his decision to end tenure by claiming that it was never applied fairly and hopes its' discontinuation will make room for new artistic talent.
Another sore spot of this year's market has been the changes in it's application system. Artist's from the older generation have had trouble with the application process itself which is now exclusively digital. Other artist's have found themselves rejected on vague criteria or without any explanation at all.
Whether these changes have had any bearing on the quality of the market remains to be seen and I will update you on my opinion as soon as I have processed the impressions of my visit.
Sometimes good intentions are not enough: the case of the well-meaning white artist
Published Jul 31 2017
It's been a turbulent spring and summer in the art world. As art does, it has stirred up some strong feelings in places. Add questions of race to the mix and you get something close to an uproar. There have been protest directly in galleries. There have been questions as to who has the right to represent what (which translates into: does a white person have the right to represent the experiences of other races?) Personally, I think this kind of ruckus is ultimately for the good. People and cultures that do not normally enter into dialogue have met. Maybe I'm wrong, but in some cases it seems that the parties have actually listened to each other and tried to reach some kind of agreement.
Speaking as an art lover, I consider myself an unfailing patron of the arts and its right to express whatever it wishes. If someone wants to paint swastikas on cats I say fine. My excuse is that art is complex and I can look at those swastikas and even like them without suspecting that I've become a Nazi. Thing is, those who protest certain art are probably also art lovers. And if some group of people takes offence, suddenly art is not so complex. Real hurt has been caused, and it can't be theorized away.
The controversy that went the furthest this summer was the one that surrounded a sculpture by Sam Durant that was set to become a permanent part of Walker Art Center's sculpture garden. Titled "Scaffold," it was a representation of seven gallows used in historic U.S. government executions, including those of abolitionist John Brown in 1859, four anarchists in Chicago's 1886 Haymarket affair, and, in 1862, 38 Dakota men in Mankato, Minn. — the largest mass execution in U.S. history.
When I first heard about Native Americans protesting the erection of "Scaffold" at the Walker Centre I was a little puzzled. Surely, I thought, they must understand that this is not a monument to genocide but a statement about historical oppression by a socially and politically minded artist. I carried this sentiment around with me for about a month or so before finally having time to sit down and get some knowledge on the matter. It was an interview with Sam Durant that made me change my mind. He explains how "Scaffold" was born out of an experienced need for the USA to own up to its past; to not sweep it under the rug but to live with it and learn from it. As an artistic gesture, that's about as politically responsible as they come. So, how could it be that it was received so wrong? The problem, of course, was that Durant trusted that intentions would be enough. Intention, especially when good and politically commendable, is a trap of ego-centricity that makes it hard to anticipate the reactions of surrounding society. This made Durant unable to foresee what eventually happened:
"So the Dakota people basically saw something that looked like a monument to their massacre. Mankato is burned into their consciousness. It's not abstract. As one person said to me, "That's a killing machine." Then it turns out that the garden is located on [historic] Dakota land. So you couldn't have a better test case of white ignorance in one place."
Often artist will cling to their intentions like lifejackets through the stormy waters of protests. "I actually meant well so it must be right". My granddaughter offers the same excuse when accidentally harming her little sister. "I didn't mean to, I didn't mean to, I didn't mean to", she repeats like a mantra of exculpation. Fair enough, but the offended party is still hurt. I think Sam Durant's behaviour and code of conduct has been exemplary throughout his whole ordeal and can serve as guideline for artists in similar situations. He realised that good intentions are not enough. Instead of using his good intentions as a fortress to shield him from reprisals, which I suspect many in his position would have done, and he sat down with the parties that had objections against his artwork to see what could be done.
After listening to them he decided that their real hurt overshadowed theoretical artistic importance. Giacometti famously said that given the choice on whether to save a Rembrandt or a cat from a fire, he would save the cat. Durant has also proven to be an artist that self-denyingly chooses life above his art. And as the ultimate sacrifice, Durant signed over all the rights to the work to the Dakota tribe which then had a ceremonial burning of it.
Post-structuralist art theory teaches that intention means nothing. Meaning ultimately lies with the receiving party. Caught in a racial jam, most artists will choose to ignore that lesson. Not Durant. He was willing to right his wrongs when he found that intentions could not be eternalized into general consensus.
I write this not as a deterrence for artist to step out of the boundaries of their racially defined experience. On the contrary, I think artists should not be afraid to speak on experiences that are not theirs. At least part of the artist's task is to imagine other realities, so why not those of other races.
I think we need more well-intentioned failures. As evidenced by the Durant case, that's when dialogue can happen. But if you are going to fail, please acknowledge it. Otherwise you might end up defending something others consider racist and suddenly your good intentions have turned unintentionally detrimental.
How Star Wars has inspired Native American art.
Published Maj 26 2017
Yesterday marked the 40th anniversary of the Star Wars franchise. What better way to celebrate than to show some examples of how Star Wars has appealed to Native artists.
Besides a notable similarity between traditional Hopi hairstyles and how Princess Leia wears her hair, as illustrated by Nicholas Galanin, Star Wars has little direct relevance to Native cultur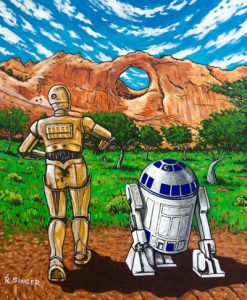 e. But of course Native peoples watch movies too. And the classic tale of good triumphing over evil seem to hold something different for everyone to identify with.
Navajo artist Ryan Singer, represented by Kiva Gallery, relies heavily on pop culture in his painting so it's a small surprise that he has devoted a series of recent paintings to Star Wars. Singer explained the attraction in a radio interview:
"as I got older I started to, kind of like fusing pop-culture imagery with the Navajo culture. Somehow that Star Wars just, kind of like, manifested in there. And, I always thought of Tatooine as the desert that was close to Tuba City where I grew up, and the Sand People nomadic people real similar to how the Navajos were. So, there were all these similarities I saw in the movies. There really is, like sort of, two different worlds, you know, as far as culture. I try to bring them together and mix them up."
The imaginary movie posters of Jeffrey Veregge has been featured on the blog before. Veregge depicts familiar Star Wars motifs and characters in the artistic style inherited from his Port Gamble S'Klallam Tribe.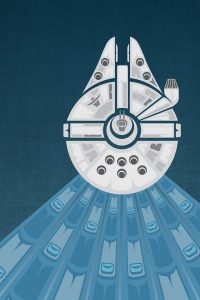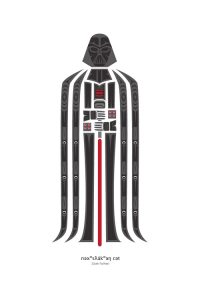 A few years back, Andy Everson did a series of Star Wars – themed paintings that had a political twist. In Everson's hands, Star Wars battle of light and dark was referenced in order to address political concerns amongst his own tribe.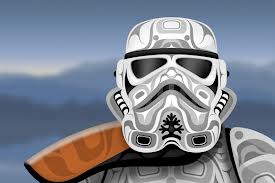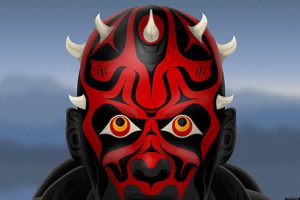 Steven Paul Judd specializes in "impossible" encounters of pop-cultural icons with Native American history. His photoshopped juxtapositions are often strikingly
funny but also remarkable for demonstrating a missed encounter and the exclusion of Native culture from mainstream pop culture.

Excluded or not, the above artists have all taken something they like and made it their own, even though the original content has no explicit relation to their culture whatsoever. I don't want to read to much into this, but in a way I find the interest in Star Wars encouraging. It demonstrates a DIY approach to inclusion. Looking at these images I feel  – If I may allow myself to partake in Star Wars geekiness and reference the revised subtitle of the very first Star Wars movie –  A New Hope that Native culture may take a bigger slice of pop culture one day.
Why it's not necessarily a good thing to be inspired by Native American art.
Published Maj 6 2017
Ok, let's get the title explained right off the bat. I don't mean to be provocative. It might sound like I'm faulting Native American art here, but the accusatory weight is meant to fall on the inspired part. What I mean is that there is something reductive in the way non-natives claim that they are inspired by Native American art. It's something that's heard quite a lot. From Jackson Pollock to Ralph Lauren, artists and designers often cite Native American art as an influence. For fashion designers it seems particularly commonplace to go Native for a least one collection. Of course, when asked, the inspired will always assure their utmost respect and admiration. But a lot of the times one wonders if it doesn't do more harm than good. One might argue that when someone like Ralph Lauren incorporates Navajo motifs into his designs, it raises interest about Native culture. This may very well be the case, but it also reinforces the view of Natives as a faceless group of "others". Because it's rarely the unique style of an individual Native artist that is cited as inspiration, it is always "Native art" en masse. Outsiders all too often seem to regard Native designs as interchangeable and all alike. This may also explain why there is a baffling lack of collaboration between the inspired and the ones who they are inspired by. Because if one fails to distinguish between different styles, I can see that it would be easy to believe that anyone can do it.
Yet, according to Lindsey M. Montgomery, collaboration is what's required if inspiration is to generate respectful results: "Navigating the waters between respectful reference and insensitive borrowing comes down to one thing: collaboration. Collaboration requires companies and designers to do more than simply appreciate and borrow the aesthetics of another culture. It demands they engage in an active dialogue with the particular community or artist who is inspiring the work."
It really shouldn't be so hard to realize the benefits of collaboration. After all, designers want competent seamstresses, right? So of course they will hire the best in the game. And if you want some cracking Navajo designs, you should probably get in touch with someone who knows what they're doing. But this very rarely happens. The much publicized court case Navajo Nation vs. Urban Outfitters offers some insight into why those inspired seldom think it necessary to go to the source for help. The story goes that the clothing company Urban Outfitters had used Navajo designs and motifs for years. In 2012, the Navajo Nation finally took legal action against the company for violating the Indian Arts and Crafts act, which prohibits trying to pass off artefacts as authentically Native when they are not. According to Urban Outfitters' defense Navajo patterns are a generic style of design that anyone can use.
Lindsey M. Montgomery comments again: "Urban Outfitters' claim that there is something generic about Navajo designs is baseless. These designs may share a similar set of aesthetically pleasing characteristics, but they are also the weaver's personal expressions. Some refer to tribal or familial histories."
Recognition of the individual behind the artwork rather than the group should really be the source of inspiration. Otherwise one gets inspired at the cost of preconceptions and generalizations. Maybe it is time to stop talking about Native Art all together. The contemporary art done by Native Americans is so diverse in style and content that it becomes difficult to speak of in terms of a particular grouping of art. It is, in short, art done by Native Americans rather than Native American art.
Native Art is about to be "American" at the Metropolitan Museum in New York
Published Apr 14 2017
Post-colonialism is now a required course for most cultural studies programs. History is no longer taught solely from the perspective of the winners. But museums have been slow to adapt. While ancient Greek and Roman objects are clearly treated as art, many museums have been reticent to view Native American expressions of creativity as artwork rather than anthropological artifacts. Native American art have often been side-lined into special collections and museums, or even housed in Natural History Museums. In many places, the cultural heritage of Native Americans has institutionally been denied the label "art".
Until now, The Metropolitan Museum of Art in New York has operated under a similar discriminatory curatorial principle. Visitors looking to see Native American art have been disappointed to find it excluded from the museum's American Wing, which is its rightful geographical context. Instead, one would find it lumped together with other indigenous art from Africa and Oceania. Last week the museum announced that this is about to change. For the first time in its 147-year history, Native American art will share space with recognized American masterpieces by, for instance, John Singer Sargent. The integration was made possible – both materially and conceptually – by a donation from the art collecting couple Charles and Valerie Diker who says " We always felt that what we were collecting was American art. And we always felt very strongly that it should be shown in that context."
The collection consists of 91 promised artworks from the Dikers. They will debut at the Met in an exhibition set to open 2018. According to Carrie Rebora Barratt, deputy director for collections and administration, the donation and exhibition "marks a turning point in the narratives presented within the American Wing."
Nicholas Galanin juxtaposes tradition and the contemporary in unexpected ways.
Published Apr 12 2017
In lists of the "native-artists-you-should-know" kind, the name Nicholas Galanin features prominently. He is certainly no idler. He makes jewellery, he makes art in a variety of different media and he sings in a band called Silver Jackson. Having multiple functions does not mean he is unfocused. It just means he doesn't do what's expected. While attending art school, the teachers expected him to abandon his roots in the traditional imagery of his Alaskan Tlingit tribe to be more contemporary. He didn't. Instead he put it into dialogue with contemporary times.
The unexpected is also a word that comes to mind when thinking of his art. Like a taxidermied polar bear or wolf suddenly losing its form and becoming a rug midway through.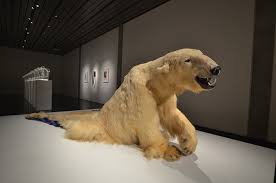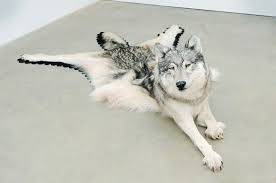 In his art, some of Galanin's key methods are comparison and juxtaposition. And, again, the results are quite often unexpected. As in "Things are Looking Native, Native's Looking Whiter" (2012) in which Princess Leia from the "Star Wars" movies is juxtaposed with a Native American woman with traditional attire and hairstyle.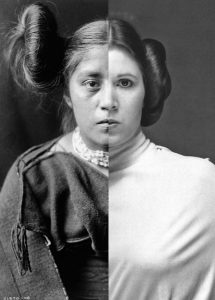 The meeting, or confrontation if you will, of traditional and contemporary can also be experienced in the two-part video Tsu Héidei Shugaxtutaan (2006), in which a Tlingit dancer does his thing to a contemporary soundtrack of wobbly dubstep, and a non-Native break-dancer interprets a Tlingit song. The result is so captivating that anyone questioning the relevance of traditional cultures for contemporary times gets food for thought.
As firm believers in the dialogue between tradition and contemporary, Kiva Gallery sympathizes wholeheartedly with Galanin's artistic methods. Galanin shows that not only does this dialogue generate exciting visuals but also knowledge and insight.
Standing Rock and Artistic Protest
Published Mar 8 2017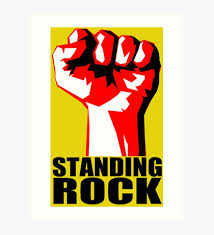 If nothing else, we can be grateful to President Trump that there is more political art and music now than we have seen in a long time. To realize that art flourishes in times when there is much too protest about you only need to scroll through your daily Instagram feed and look for Trump-related posts. The aspect of his presidency that has perhaps sparked some of the most thematically specific art concerns the pipeline in North Dakota. When Trump reversed Obama's cancellation of the completion of the pipeline through Sioux territory, art became a central component in the protests against it. Now that the protesters have been evacuated from their camps and work has begun to finish the controversial pipeline, the artistic protests that are still being produced proves that the struggle is far from over.
One of the more effective artistic interventions into the conflict was Cannupa Hanska Luger's mirrored shields. Using cheap masonite and adhesive mirrors, Hanska Luger crafted shields that were passed out among by the protesters. This, however, was more than an act of rearmament to match the equipment of the police who often carry shields at demonstrations. According to Hanska Luger the reflective surfaces on the shields would reveal to the policing forces the shared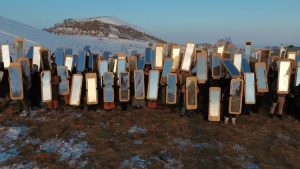 humanity "underneath their uniforms—and [make them] realize that they are also on our side" (http://theartnewspaper.com/news/artist-creates-mirrored-shields-for-standing-rock-protesters/). The shields thus function as protection against bodily harm but also as a peaceful deterrent to any kind of violent confrontations.
The shields were also used in a performance that can be seen here:  http://www.freep.com/story/news/local/michigan/2016/12/04/hundreds-mirror-shields-used-standing-rock-art/94961662/
Cannupa Hanska Luger explains the role of the artist: "Artists, we live on the periphery. But we are the mirrors. We are the reflective points that break through a barrier." (http://www.latimes.com/entertainment/arts/miranda/la-et-cam-cannupa-hanska-luger-20170112-story.html)
That is the power of art in times of conflict. It is more than just a polarized opinion that can easily enough be dismissed by those who take the opposite stance. As such, it has the power to break through barriers. Here is some more art that tries to do just that.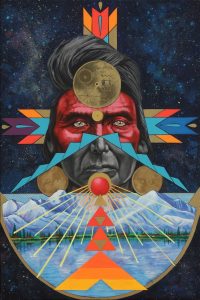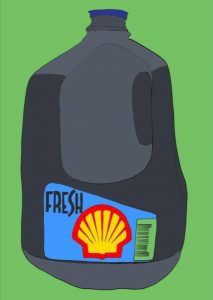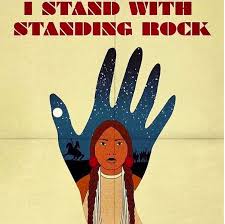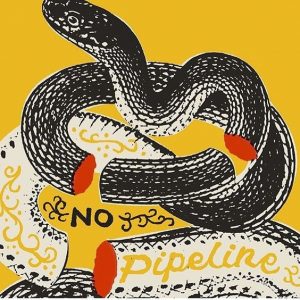 Teaching Jimmy Nelson a lesson on the importance of listening
Published Nov 28 2016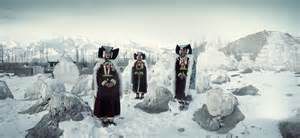 Currently, Jimmy Nelson's photographic project "Before They Pass Away" is touring the world. As the somewhat dramatic title indicates, the theme is extinction, and the subjects of this supposed extinction are indigenous cultures. From Inuit tribes in Northern Siberia to Argentinian Gauchos in the South, Nelson has travelled the widths and lengths of the globe to unearth cultures almost entirely disconnected from modern society.
The project has been both celebrated and criticized. Visually speaking, the photographs are without a doubt impressive. When the exhibition visited Fotografiska Museet in Stockholm last year, I was myself immediately seduced by the gigantic glossy tableaus. So big are they that they let you immerse yourself in widespread landscapes as well as the slightest ornamental detail on the items of clothing. Visual seduction aside, however, something starts to chafe when getting deeper into the information and statements accompanying the project. This is far from an objective anthropological exposé. Nelson makes no qualms about it. In the statement accompanying the exhibition, Nelson's photographs are said to be entirely subjective. They do not seek to capture the truth. The figures are obviously posed, romanticized and beautified. In Nelson's words they are made up to be "icons" rather than real, everyday people. Okay, one thinks, so are the photos to be read as some sort of postmodernist interrogation of the notion of truth? It would be one thing if it was, but Nelson's influences lean more toward Edward S. Curtis than Jean-Francois Lyotard, so in fact it's quite the opposite. In other places he even considers himself a "collector of truth". The question inevitably poses itself – how can one be both the representative of truth and yet highly subjective? No doubt there seems to be some confusion about Nelson's conceptual pediments. Many have been understandably offended by Nelson's reckless wielding of his flimsy version of truth and the project has suffered severe critique from Survival International (http://www.survivalinternational.org/news/10244) as well as representatives of the very cultures he photographs ( http://www.theguardian.com/global-development/2014/oct/29/jimmy-nelson-indigenous-people-survival-international). What they have objected to is how Nelson presents these cultures as threatened by modern life when they show no signs of disappearing, but also the idealized manner in which they appear in the photos.
As a gallerist in Sweden dealing in Native American art, I can relate to Nelson's position. I am by necessity an outsider to the culture I am interested in. I want the objects that are exhibited in my gallery to be beautiful, but I also want them to say something about the cultural background from which they originate. Not always does this fit into my what my expectations tell me. One way of making the job easier is through personal contact with the artists. All of the art in Kiva Gallery are chosen on the basis of a personal relationship with the artists. I have visited them in their homes. I have talked to them. I've been in awe. I've disagreed. I've been wide-eyed and I've been disappointed. I've been human to them and they have been human to me. I have listened to their stories and as a result I've sometimes had to revise my preconceptions. It doesn't really seem like Nelson has listened to the stories of the people he portrays. If he had he would know that the Dani people of West Papua don't like to be called the "most dreaded head-hunting tribe of Papua" (http://www.survivalinternational.org/news/10628).
Not once in my encounters with Native Americans have I heard talk of the culture dying out. And If Nelson had listened I doubt that he would have heard it. My point is that marginalized people should be allowed to be in charge of their own narrative.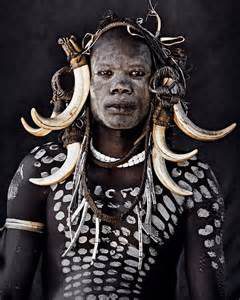 The problem is that Nelson tries to be both an artist and an anthropologist. Considering the scarcity of documentation around the cultures Nelson targets, the artist and the anthropologist are far from comfortable bedfellows. As an artist, Nelson is free to do whatever he feels like with his subjects. But an anthropologist doesn't have – or shouldn't have – that freedom. An artistically distorted image needs an anthropologically "true" image as a counterweight, otherwise there is no way to recognize the distortion. But if no other images exist, Nelson's image becomes the primary point of reference and thereby artificiality easily becomes the "true" image. This becomes an issue considering that Nelson merits himself on capturing cultures that are infamously hard to access, which is to say that documentation is very scarce. Nelson has to make a choice: either the images are to be considered as a purely subjective expression of an artist's vision or objective anthropological documentation. Having it both ways leaves Nelson open to the charge of misrepresentation and falsification.
Of course, Nelson means well – he wants the world to see how beautiful the people he meets are. Nothing wrong with that. The problem is that such a shallow approach is simply not enough to live up to his grander ethnographic ambitions. In his TED talk, Nelson gives a taste of just how shallow his vision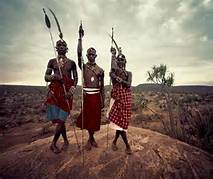 of truth really is. In a slideshow of his photographs, Nelson includes an image of a group of Samburu Warriors, shot from the back. The figures, Nelson claims, are often mistaken for women. He then shows the frontal view – tadaa, they're men! The point of this little demonstration is to encourage us to "look closer, for things are not always what they seem". If Nelson's vision of the truth is as superficial as that it goes without saying that his claims of the photos as an "important ethnographic record" should be disqualified. Elissa Washuta has faulted Nelson's preoccupation with visual cues of identity and notes that, "Personal strongholds of identity are often invisible." (http://www.salon.com/2013/11/24/americas_w
rongheaded_obsession_with_vanishing_indigenous_peoples/). Which is to say that Nelson would do well to focus on factors other than mere superficial appearance. This might be much to ask of a photographer. But what if Nelson instead of dressing his subjects up to look as exotic and obsolete as possible had asked them to be photographed with something that was important to them. Maybe someone had wanted to be portrayed with their iPhone playing – I don't know – Candy Crush. All of a sudden a more complex picture comes to light, one that is not compatible with generalizing and dramatic claims about dying cultures. Sadly, Nelson doesn't allow for such mixtures of tradition and progress. His narrative is already in place, and it is one where his photographs stands as the last heroic record of vanished cultures.
There is a glaring absence of Native North American cultures from Nelson's project. The exclusion was consciously made by Nelson on grounds that North American tribes haven't retained their heritage. Not only is this a deeply insulting claim but it also bears witness to how limited and antiquated Nelson's ethnographic guidelines are. It goes to show that Nelson's conclusion is already in place even before he has started his photographic documentation. As a result, Nelson has put himself in the unflattering and eminently colonialist position of judging was is and is not to be considered as authentic to a culture. Similar judgments of authenticity often guided the practice of Nelson's hero Edward S. Curtis. Just like Nelson, Curtis would dress up his subjects and pose them for the camera. But sometimes an unwelcome reality would still intrude. Curtis would then have to alter photographs after being shot to fit his view of how things should be (http://www.salon.com/2013/11/24/americas_wrongheaded_obsession_with_vanishing_indigenous_peoples/ ). In a portrait of Little Plume and his son Yellow Kidney, for instance, Curtis retouched the picture to remove an alarm clock that he deemed incompatible with the preconceived simple ways of the Native. It's a paradoxical and self-defeating way of documentation. On the one hand the presumed likeness of photography is utilised to bring us closer to cultures most have very little knowledge about. But on the other hand subjective judgments of what is and what is not part of the culture brings us farther away from the present realities of these cultures.
If Nelson had listened more he would have realised that change does not necessarily equal death. A lot of the cultures he portrays have changed from what they were a hundred years ago. That does not mean they are about to disappear.
Native Americans today watch TV, they listen to Beyoncé or Taylor Swift, they skateboard. This does not mean that they "havent retained their heritage". They also hold traditional ceremonies, pow-wows and sweat lodges. This diversity has not led to cultural death. On the contrary Natives are quite proud of their culture which today includes both traditional and modern elements.
And if Nelson would have allowed his subjects to speak louder than his camera I doubt they would have spoken of death.