In lists of the "native-artists-you-should-know" kind, the name Nicholas Galanin features prominently. He is certainly no idler. He makes jewellery, he makes art in a variety of different media and he sings in a band called Silver Jackson. Having multiple functions does not mean he is unfocused. It just means he doesn't do what's expected. While attending art school, the teachers expected him to abandon his roots in the traditional imagery of his Alaskan Tlingit tribe to be more contemporary. He didn't. Instead he put it into dialogue with contemporary times.
The unexpected is also a word that comes to mind when thinking of his art. Like a taxidermied polar bear or wolf suddenly losing its form and becoming a rug midway through.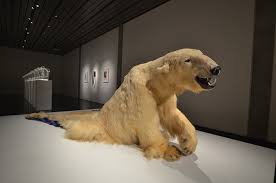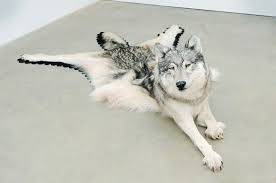 In his art, some of Galanin's key methods are comparison and juxtaposition. And, again, the results are quite often unexpected. As in "Things are Looking Native, Native's Looking Whiter" (2012) in which Princess Leia from the "Star Wars" movies is juxtaposed with a Native American woman with traditional attire and hairstyle.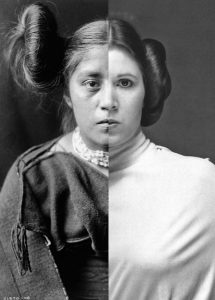 The meeting, or confrontation if you will, of traditional and contemporary can also be experienced in the two-part video Tsu Héidei Shugaxtutaan (2006), in which a Tlingit dancer does his thing to a contemporary soundtrack of wobbly dubstep, and a non-Native break-dancer interprets a Tlingit song. The result is so captivating that anyone questioning the relevance of traditional cultures for contemporary times gets food for thought.
As firm believers in the dialogue between tradition and contemporary, Kiva Gallery sympathizes wholeheartedly with Galanin's artistic methods. Galanin shows that not only does this dialogue generate exciting visuals but also knowledge and insight.