Handpicked from US  to Kiva Gallery , a selection of beautiful Pendleton blankets and throws, all in amazing colors and with original Native American patterns. The blankets, here in robe size are still today much preferred and in everyday use by Native Americans who often also use them for ceremonial purposes, wrapping the blankets around themselves.
On display in the gallery you will also find a few antique and rare blankets going back a century, to the very start of the well-reputed Pendleton weaving mill, today one of the few in US.
The ¨Chief Joseph pattern¨ is a much favored pattern embellishing blankets and throws,  and still in production.
The Pendleton textiles are impressive also as wall hangings.
Antique blankets are highly acclaimed by collectors all over the world.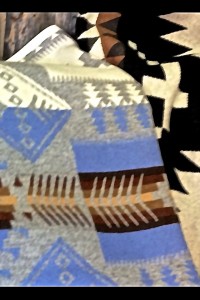 – It is cold and we have no blankets. The little children are freezing to death. My people, some of them, have run away to the hills and have no blankets, no food. No one knows where they are – perhaps freezing to death. I want to have time to look for my children and see how many of them I can find. Maybe I shall find them among the dead.   Hear me, my chiefs. I am tired, my heart is sick and sad.   From where the sun now stands, I will fight no more forever.
                         CHIEF  JOSEPH