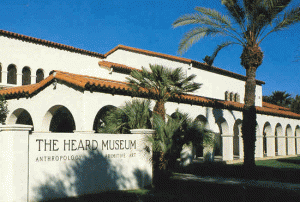 In my research into Native culture, the Heard Museum in Phoenix has become an invaluable treasure trove of knowledge and experiences of beauty. Since it opened to the public in 1929, the museum has been an important institution for the preservation, archiving and support of Indian art.
The renowned museum was founded by Dwight and Maie Heard. During many travels through the Southwest, this wealthy couple had collected an impressive number of American Indian artifacts, and decided to share their treasure with their contemporary Phoenicians. The intention was also to educate people about Arizona's Native cultures and their history.
The Heard Museum, in fact, rests on the original grounds of Dwight and Maie Heard's estate in the city. Mrs Maie Heard died in 1951. At the time of her passing, the Heard collection consisted of approximately 3,000 pieces. Today, the collection numbers more than 40,000 items; a variety of fine art  and cultural artifacts. An estimated number of 170,000 visitors from all over the world come to the Heard Museum yearly. The Annual Fair & Market at the Heard is a world-acclaimed festival that each March draws nearly 20,000 visitors and more than 700 American Indian artists to Phoenix, Arizona.
I've been attending the Indian Market and activities/events around it regularly over the years. Many of  Kiva Gallery's artists are represented and chosen to show their art at the Indian Market at Heard. I come to Phoenix to meet them and their art. In later posts I will tell you more about the routes I have travelled and the people I have met on my art collecting quests.