What is Kiva Gallery  ?
Kiva Gallery specializes in art made by the Native people of North America and particularly the Southwest USA. This area is especially rich in cultural traditions, going back to the pottery and craftwork from the tribes of the middle ages, and continuing today with oil and acrylic paintings, sculptures, textile, as well as decidedly modern artistic expressions through graffiti and skateboarding, photography and graphic art.
Native culture today cannot be summed up with a few go-to terms and familiar motifs. Many contemporary artists are struggling with how to remain faithful to their cultural heritage while still updating its traditional idiom to modern times.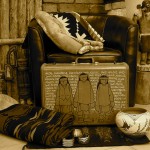 The mission of Kiva is to capture Native culture in a time of transition and translation. We choose to display artworks that will illuminate this process. Combining traditional arts and crafts – such as pottery and Kachina dolls; rugs and jewelry – with contemporary painting that relate to a broader art-historical, as well as pop-cultural, context, Kiva's ambition is to demonstrate a culture of vibrancy, of energy and restlessness.
In the years that Kiva has been open, it has come to function as more that an art gallery. It has become an open forum of conversation and exchange about marginalized cultures. This is how we like it. Stop by for a coffee and a chat.